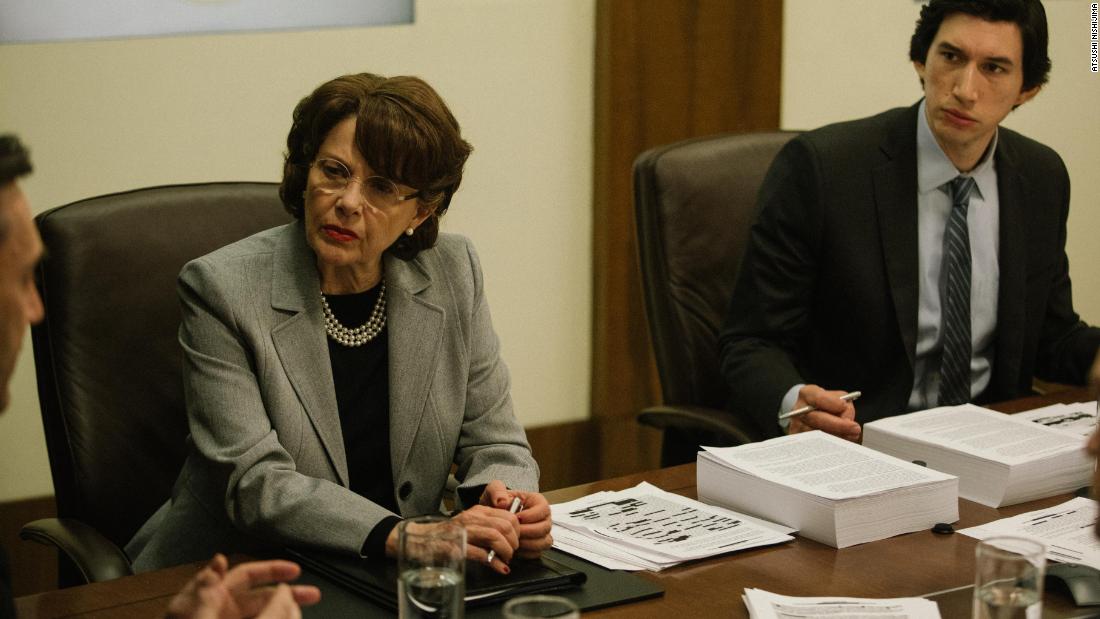 (CNN)"The Report" tackles a serious topic — the CIA's use of torture after the Sept. 11 attacks, and the heroic attempt to make those practices public — and turns it into a rather heavy-handed movie, one that nearly buckles under the weight of its own self-importance. Adam Driver leads the cast, in an Amazon release most notable for the flashbacks to what happened under the mandate to protect America.
Offered little help, and impeded by other branches of government at most every turn, Jones and his small team sit in an unadorned room, wading through thousands of pages of documents for years, which might explain his growing agitation as officials at the CIA and in the Obama administration exhibit little appetite for exposing the truth, when they aren't outright seeking to obscure it.
Written and directed by Scott Z. Burns, and produced by Steven Soderbergh, "The Report" packs the most potent punch when it flashes back to illustrate the report's contents, exposing the duo that sold themselves to the CIA as experts on interrogation and breaking the wills of detainees, touting their ability to "induce learned helplessness."
That included waterboarding, sleep deprivation and other methods shown not to work, despite the masterminds' insistence that they were based on science, and their argument that the subjects' continued lying meant the tactics were actually effective.
"We don't do this," FBI agent Ali Soufan (Faher Kaisi) says, a rare voice of sobriety in the heat of the moment, while CIA officers merely pressed for results.
Still, the movie spends most of its time in Senate and CIA offices, with the increasingly frustrated Jones steadfastly pressing for action, while others remain mindful of the political costs of exposing what transpired. It's a familiar story, and the historic freshness of the material — given the number of current senators and Obama alumni name-checked — is as much a drag on fully appreciating the film as an asset.
This is Driver's third movie of the fall (along with
"Marriage Story"
and the upcoming "Star Wars" sequel), and he provides a solid anchor, despite the decision to forgo depicting any life for Jones beyond sifting through classified data — a conscious choice by the filmmakers to maintain the movie's focus. The rest of the cast — which includes Jon Hamm, Michael C. Hall, Tim Blake Nelson and Ted Levine — is even more hamstrung by the narrowness of their roles.
The subject matter couldn't be more significant, contemplating the extent to which the U.S. government compromised the country's values in prioritizing thwarting terrorism above all else. There have been several good books, news accounts and documentaries in chronicling that story, but with "The Report," a so-so movie.
"The Report" opens Nov. 15 in select theaters. It's rated R.
Original Article : HERE ; The Ultimate Survival Food: The Lost Ways
The best offers on the market today:
Internet Mastery Academy
Sexual Supremacy
Fat Loss Accelerators
Whiteboard Animation Lucid Dreaming Video Course - Top Seller