Campaign linked to Sziget festival criticised by senior member of ruling Fidesz party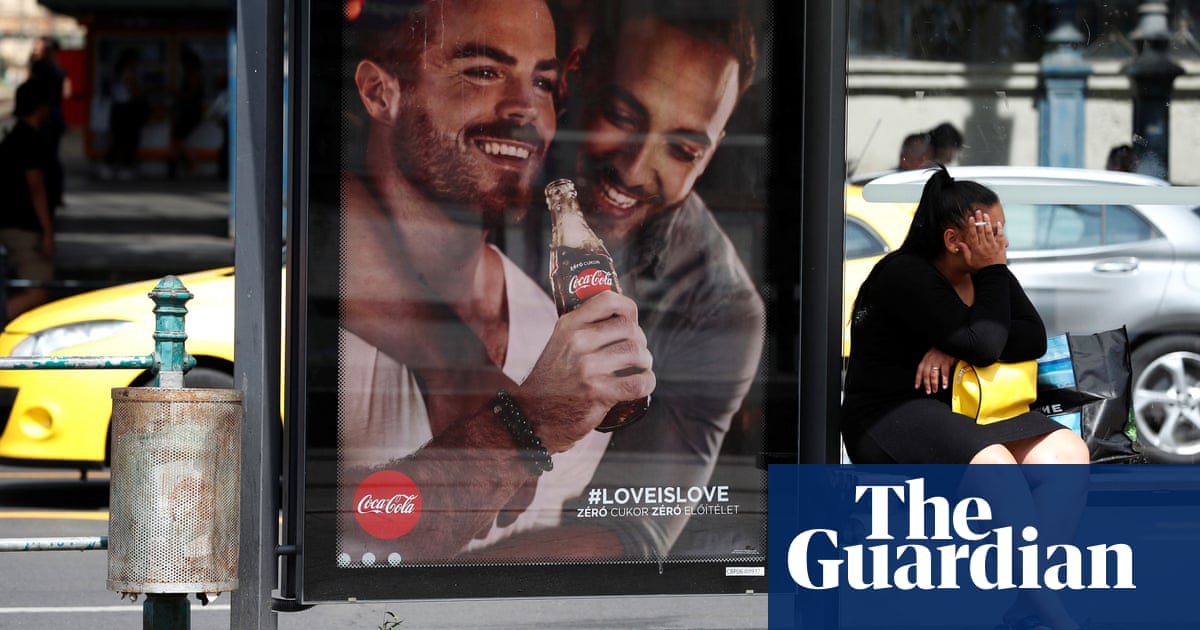 Advertisements by Coca-Cola relating to a popular music festival in Hungary that promote gay acceptance have prompted a boycott call from a senior member of the conservative ruling party.
The posters are timed for the week-long Sziget festival that takes the theme of Love Revolution and starts on Wednesday in Budapest and show gay people and couples smiling with slogans such as zero sugar, zero prejudice.
That has annoyed some supporters of Viktor Orbns nationalist Fidesz party, which opposes same-sex marriage.
Profile

Viktor Orbn

Born in 1963 in Szkesfehrvr in central Hungary, Viktor Orbn has been leader of the Fidesz national conservative party in two long stints since 1993. He has been Hungarys prime minister between 1998 and 2002, and again since 2010. After two years of military service he studied law in Budapest, and then political science at Pembroke College, Oxford.

For nationalists across Europe, Orbn has become a hero, the embodiment of a nativist leader willing to eschew liberal political correctness and speak aggressively about the need to defend so-called Christian Europe. Steve Bannon has called him Trump before Trump, and Nigel Farage and Italys Matteo Salvini are admirers.

For many liberals, and increasingly for some of his supposed allies in the EPP, he signifies all that is rotten, corrupt and downright scary in contemporary politics on the continent.

The age of liberal democracy is at an end, Orbn told the Hungarian parliament shortly after Fidesz won a third successive electoral victory in 2018. It is no longer able to protect peoples dignity, provide freedom, guarantee physical security or maintain Christian culture.

His messaging, repeated in speeches and interviews ad nauseam, is that he is on a mission to protect Hungary and the rest of Europe from the evils of migration from the Middle East and Africa. He has frequently accused the Hungarian-born financier George Soros of a conspiracy to overrun Europe with Muslim migrants.

Orbns Fidesz party has a two-thirds majority in the Hungarian parliament, which gives him leeway to make sweeping constitutional changes, and he has spoken of a plan to reshape the country over the next decade. He has installed loyalists in previously independent institutions, put a vast media network under the control of cronies and brushed off protests from the disgruntled urban elites.

One thing Orbns admirers and detractors agree on is that he has become symbolic of something bigger than the fate of a smallish central European state with a population of fewer than 10 million. The man himself clearly relishes his increasingly large role in European political discourse.

Frustrated with Brussels and other European critics, Orbn has built alliances with neighbouring countries, notably throughout the V4, which comprises Hungary, Poland, the Czech Republic and Slovakia, all of whose leaders have at times expressed varying degrees of unhappiness with the EU, and whose unity in messaging is growing.

For Orbn, the idea that he is up against an exhausted, decaying vision of Europe is one that he has returned to again and again in his speeches. In October 2018, he implicitly compared todays EU to the Nazis, Soviets and other imperial powers.

Shaun Walker in Budapest

Photograph: Bernadett Szab/X02784
On Sunday, Fideszs deputy speaker Istvn Boldog called for a boycott of Coca-Cola products during what he labelled a provocative campaign. But with gay acceptance rising among Hungarians, it was unclear if his call would gain traction.
Still, rightwing news portals echoed his antipathy. The homosexual lobby is laying siege to Budapest, leaving no space to avoid this, complained one, Pesti Srcok.
Orbn, who rails against immigrants, promotes ethnic homogeneity and claims he seeks to protect Europes Christian traditions, opposes equal rights for same-sex couples while advocating quiet gay-straight co-existence.
On Monday Coca-Cola said that the Sziget festival, expected to draw more than half a million people, echoes core principles of the US multinational. We believe both hetero- and homosexuals have the right to love the person they want, the way they want, the company said.
Fidesz stopped short of endorsing Boldogs boycott call, saying Hungarians were free to choose whether to drink Coke.
Tams Dombos, an advocate with the Httr gay rights group, said the government was homophobic but also aware of societys growing acceptance of gay lifestyles.
We have a feeling they are testing people in this subject, Dombos said. The entire government propaganda is built on conflict, and they need enemies. After the EU, migrants, NGOs and even the homeless, now it may be LGBTQ people.
Sometimes its hard to dissect whether its a political strategy or just an inherent real homophobe getting mad at something like Cokes campaign.
According to a 2018 Httr study, nearly two-thirds of Hungarians believe gay people should be free to live as they please, up from less than half in 2002.
Gay rights have caused more of a stir in Poland, where ruling rightwing Law and Justice (PiS) party, a Fidesz ally, has launched an anti-gay campaign in an apparent attempt to re-energise its mainly rural base. One conservative magazine distributed LGBT-free zone stickers and some towns have declared themselves LGBT-free.
In Hungary, the parliament speaker this year equated gay adoption to paedophilia in a moral sense.
Orbn has rarely addressed the issue head on, though in a 2016 interview he said gay people can do what they want but cannot get their marriages recognised by the state An apple cannot ask to be called a pear.
Original Article : HERE ; The Ultimate Survival Food: The Lost Ways
The best offers on the market today:
Property Tax Appeal Consulting Course For Residential & Commercial
The Psoriasis Program - Permanent Psoriasis Solution By Dr Eric Bakker
First Heart Disease Program On Market! Get Ready For An Avalanche!
Autopilot Homestead - New Homesteading Product For Preppers